Boardwalk Bowl's newest attraction, Zombie Boardwalk, is already getting major attention in Orlando.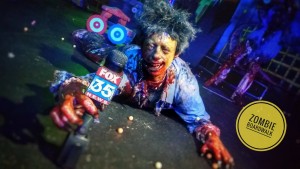 Zombie Boardwalk is a shooting-gallery style attraction. It fills 4,000 square feet of Boardwalk Bowl, and it incorporates lifelike animated zombies that make perfect target practice. Guests take aim in a rapid-fire game to see if they have what it takes to survive.
This morning, Zombie Boardwalk made its TV debut with David Martin on Fox 35's Good Day Orlando. Viewers got to see all angles of the awesome new attraction as players took aim.
The shoot also featured Boardwalk's 80 lanes of bowling and delicious food and drinks.
The attraction is FREE to guests all day and night on Halloween, as well as Friday, Nov. 4, from 6 to 9 p.m.
If you want to see more about Fox 35's feature of Zombie Boardwalk, visit David Martin's Facebook page, the Boardwalk Bowl Facebook page, or Fox 35.