Christmas is about to get a lot merrier for three local law enforcement officers injured in the line of duty.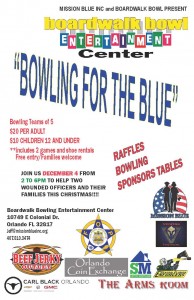 Boardwalk Bowl Entertainment Center and Mission Blue, Inc., will host an event to raise money to provide for the officers and their families at Christmas. The event, Bowling for the Blue, will take place from 2 p.m. to 6 p.m. Sunday, Dec. 4, at Boardwalk Bowl.
Teams of five will bowl in the event, and the cost is $20 for adults and $10 for children 12 and younger. The cost includes two games and shoe rental. Entry to the event is free, and families are welcome.
Mission Blue hopes to be able to support even more families, depending on the amount donated.
Boardwalk Bowl is donating 24 lanes for the event. Bowling for the Blue will also include raffles and sponsor tables.
"Boardwalk Bowl is always proud to give back to the community," said Keith Baldwin, regional manager of Aloma Bowling Centers. "This is an incredibly worthy cause, and we're happy to be able to contribute to spreading cheer for these officers and their families."
Boardwalk Bowl is located at 10749 E. Colonial Dr. in Orlando.
Mission Blue, Inc., is dedicated to helping those who risk their lives for others. They give support in any area needed for first responders who have been injured and take injured men and women and their families on outdoor adventures as a way to say thank you.
Those who cannot make it to the event can donate by visiting missionblueinc.org and clicking "donate." Add "For Families for Christmas" in the comments.
For more information, visit missionblueinc.org, email jeff@missionblueinc.org or call 407-810-3474.